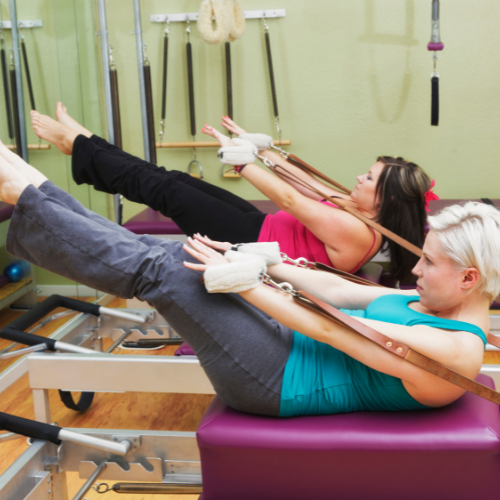 Sometimes, running just isn't your thing. Those high-intensity workouts that you may have found easy in your twenties and thirties are suddenly harder.  Harder still if you have suffered an injury of any kind.
This is where reformer Pilates comes in! Reformer Pilates is similar to regular Pilates which is done on a mat, except props and weights are used to pump up the intensity. This in turn, burns more calories.  So get ready for a seriously sculpted and toned body.  
Below are some of the reasons why you start this amazing exercise class; especially for those women that have hit their Forties.
Leanne and Fitness Tips Say:
It is low impact
If you have suffered with a knee or ankle injury then Pilates is a great option as it is a low impact exercise.  Running and high impact exercise can become tough as you get older and this is why more and more people, women in particular, keep returning to reformer Pilates classes.  You can still get a high-intensity workout without putting pressure on your joints.  
Joints age just as we do.  With Pilates, you can still maintain strength and conditioning, as well as getting a good cardio workout without having to hit the pavement.  
You are getting important strength training 
For years, cardio training was the king of exercise, but greater awareness and focus on weight training has taught women that resistance based exercise is actually better for their health and greater results are shown.  Strength training is very important as we get older.  If you don't lose it, you lose it!
Endurance training can help with bone density and possibly decrease the chances of osteoarthritis.  It is suggested that weight training be practiced a few times per week. 
Get a toned stomach and lifted bum! 
Everyone wants a flat stomach and pert backside, right?  Well, Pilates is the way forward to help you on your way to just that!  Shapes and curves are sexy and Pilates helps to tone the core and the bottom.  If that hasn't got you convinced then what will?
Pilates is perfect for pregnant and new mums
During pregnancy and childbirth, our core muscles are really put to the test, which means it is so important to strengthen them before and after childbirth.  Apart from the fact that you will want to get your pre-birth stomach back, reformer Pilates can help during pregnancy and can help with post-birth recovery. Most women that have practiced reformer Pilates before, during and after pregnancy say that they have a successful and easier birth and a quicker recovery time after birth.
Turning 40 is a milestone, and certainly one that should be celebrated. For more on staying healthy in your 40s and beyond, check out Seven Ways To Stay Healthy After 40.
xx Leanne